October 16, 2020
Because you helped us create a safe haven for jaguars, and you keep us going despite a world in the midst of so much upheaval, we want to share how deeply we value your support. So far this year, we have photographed 10 different individuals on the Northern Jaguar Reserve and neighboring Viviendo con Felinos ranches. A few of these are new jaguars. The real stars are old friends: Suki, Libélula, Zapatos, El Guapo.
We are building a stronghold for jaguars. Females like Suki and Libélula are the most essential members of the population. They are the key to survival for all other jaguars in this region, and real-time evidence of our positive impact, as we witness critical habitat and jaguar corridors being dynamited along the U.S.-Mexico border.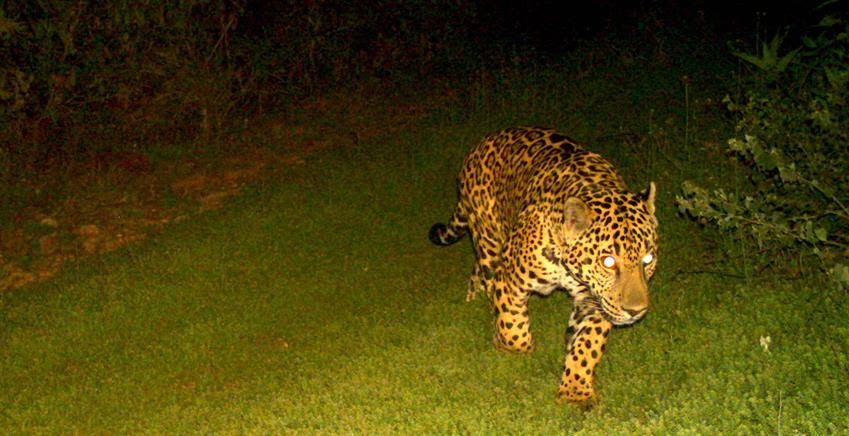 We are focused on where we have proven we can make a difference. The Northern Jaguar Reserve is the best home we could possibly have right now. Those of us who work out on the reserve feel the power and resiliency of the jaguar as we continue to protect them each day. This includes patrolling the reserve to keep poachers out.
Some other areas of our recent work:
We continue to check cameras each month and pay feline photo awards.
We enrolled a new ranch in Viviendo con Felinos, expanding the geographic reach once again.
We have designed virtual activities to engage a core group of youth Eco-Guardians.
We expect a new land acquisition opportunity on the horizon once the pandemic restrictions are lifted.
We are advancing steps to purchase property and establish a permanent headquarters in Sahuaripa.
We thank you for your generosity and love for this wild place and its inhabitants. 
We have approached these uncertain times by weaving tighter bonds within our team, staying productive with good results, and trusting that you know how much we appreciate every single donation. Whatever life has brought you this year, we hold you in our thoughts and send our best wishes from the place where jaguars roam.
Please consider a donation online.